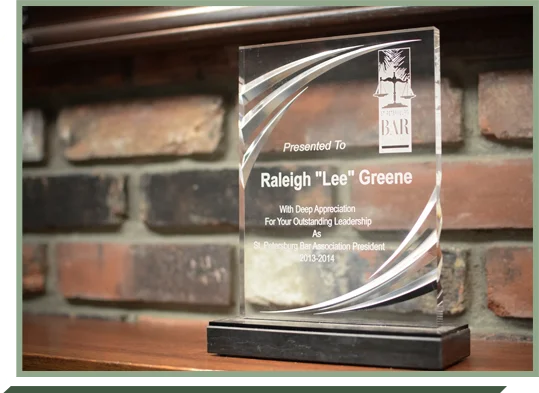 St. Petersburg
Family Law and Estate & Trust Litigation Attorneys
Dealing with the end of a marriage or a child custody dispute, deciding what should happen to your property after your passing, or handling a loved one's estate when plans were changed at the last minute, are all difficult matters to go through emotionally and psychologically. The team at Greene & Greene can help you navigate these areas with legal expertise and guidance so that you know you are being well-represented and your needs will be met. Call our St. Petersburg family law and estate and trust litigation attorneys today to schedule your consultation.
Family Law Representation Focused on You
At Greene & Greene, you'll find attorneys who have focused their practice on family law for more than two decades, with experience as both a mediator and trial attorney. We also have a depth of experience in divorce cases dealing with complex financial issues, including business valuations, income disputes, and high-value property situations. With our team approach to client representation, you'll have access to a highly experienced attorney ready to handle the most complicated issues in your case.
Speaking of a team approach, our close-knit family of attorneys is ready to address your family law needs. Our legal staff includes father and son, husband and wife, and others eager to find creative solutions to your legal matter. We are a third-generation family in St. Petersburg, deeply rooted in the community. We understand the local court system and culture and the needs facing working families and professionals in the Tampa Bay area. You can count on Greene & Greene for all your family law needs, including:
Contested Divorce
Collaborative Divorce
Paternity Actions
Child Custody & Timesharing
Parenting Plans
Child Support
Alimony
Equitable Distribution
Temporary Support
Mediation
Modification and More
Seasoned Trust and Estate Litigators
Our firm's team approach and tailored representation extend to our estate and trust litigation practice. The seasoned litigators at Greene & Greene provide effective representation in probate and estate litigation and administration for a smooth and successful distribution of assets, including representation in will contests, trust contests, or other probate and trust litigation that might arise.
Solution Oriented, Trial Tested
Over the many years we have been in practice, we have found that most legal disputes can be resolved outside of court by the parties themselves with the guidance and help of skilled and experienced attorneys. Mediated or negotiated solutions can be much more effective than judgments imposed by the courts, as they are more likely to meet the needs of both parties to the dispute, address their true interests and not just staked-out positions, and be more willingly implemented without the need to go back to court time and again for enforcement or to resolve disputes.
With training and experience in alternative forms of dispute resolution such as negotiation, mediation, arbitration and collaborative law, the attorneys at Greene & Greene are prepared and motivated to help you find creative solutions to your legal problems so they can be resolved more effectively and cost-efficiently than going to court. When litigation is necessary or in your best interests, however, you'll find our experienced trial team more than up to the task of protecting your rights and pursuing your interests in the courtroom. We know that no two clients and no two cases are alike. We take the time to understand your situation, strategize a plan to meet your needs, and implement that strategy successfully on your behalf.
Contact Greene & Greene Today
For creative and effective problem-solving in or out of court, the law firm of Greene & Greene provides advice and representation you can rely on. For help with Florida divorce, child custody, paternity, wills and trusts, probate and more, call our experienced St. Petersburg family law and estate planning attorneys today.