Divorce vs. Separation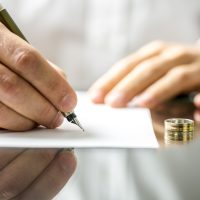 Preparing for the divorce process can feel like an overwhelming task. There are a lot of things to consider before you turn the page on one chapter in your life to start the next. Commonly people come to us asking us "what is alimony law?" and what does it mean in the state of Florida. We've outlined the three most common things to consider around this topic as you're preparing for this process and seeking out a divorce attorney.
If you're asking yourself what is alimony law, you'll find a brief overview of each of the types and factors of alimony law in Florida.
Types of Alimony Available in Florida
There are five different types of alimony law that the state of Florida provides: temporary, bridge-the-gap, rehabilitative, durational, and permanent. Court may award a combination of these different types of alimony depending on the circumstances of each case. Temporary alimony, sometimes called "alimony pendente lite", refers to alimony during the pendency of your divorce. Bridge-the-gap alimony is transitional to help pay specific expenses. Rehabilitative alimony provides support for educational or vocational training based on a plan so that the spouse can achieve self-sufficiency. Durational alimony is most often used in short or moderate term marriages and cannot be awarded for a longer period of time than the length of the marriage. Permanent alimony is often granted in long term marriages and will usually last until either spouse passes away or the receiving spouse enters into a supportive relationship.
The types of alimony are not mutually exclusive and may be awarded as a combination of different types. Alimony can also be in the form of periodic payments or one lump-sum payment.
Factors in Need and Ability to Pay
There are a lot of factors that go into determining what constitutes need and ability to pay within alimony law in Florida. Some of these are the financial resources of the spouse seeking maintenance, all sources of income, each spouse's earning capacity, marital standard of living, the length of the marriage, age and physical and emotional wellbeing. Courts must consider all relevant factors in determining the type and length of alimony.
These are very broad brushstrokes on explaining what is alimony law and what types of alimony are available in Florida. At Greene & Greene, it is our mission to provide superior legal representation, service and value to our clients. Our attorneys are all experienced litigators who handle your case personally. If you are interested in engaging our firm, consultations are scheduled as needed and we are happy to accommodate your business and personal calendars.