Prenuptial Agreements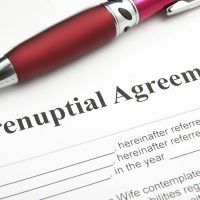 Preparing for the divorce process can feel like an overwhelming task. There are a lot of things to consider before you turn the page on one chapter in your life to start the next. Commonly people come to us wondering how a prenuptial agreement might affect a divorce. We've outlined a few things to consider around this topic as you're preparing for this process and seeking out a divorce attorney.
While stipulations can vary state by state, there are certain things that prenuptial agreements in Florida protect as well as things that, because of the public policy of the state, cannot be covered. When a couple signs a prenuptial agreement before they get married, it can help determine who gets what if the marriage ends in a divorce. What this means for most people is that their individual assets and some types of future earnings can be protected. Examples of this can be houses, cars, and investment portfolios. Other reasons for entering into a prenuptial agreement prior to marriage is to protect any future inheritance for children from a previous relationship, maintain business interests as separate in the event of divorce, and to pre-determine alimony to avoid litigating the issue at a later date.
However, some issue related to divorces, such as assigning an amount for future child support and providing a fixed amount for any temporary support during the pendency of a divorce action, cannot be agreed upon within a prenuptial agreement. Determining custody arrangements and child support is something that occurs during the divorce process and is based on what a court will determine is in the best interest of the child.
These are very broad brushstrokes on how a prenuptial agreement can affect a divorce action. At Greene & Greene, it is our mission to provide superior legal representation, service and value to our clients. Our attorneys are all experienced litigators who handle your case personally. If you are interested in engaging our firm, consultations are scheduled as needed and we are happy to accommodate your calendars.